Get to Know Your Bottle
Get to Know Your Bottle
Our Wellness Bottle is the cornerstone of the world's first hydro-nutrient system. It delivers high-quality nutrition and hydration in delicious, flavor-packed beverages and is designed to effortlessly flow with your day.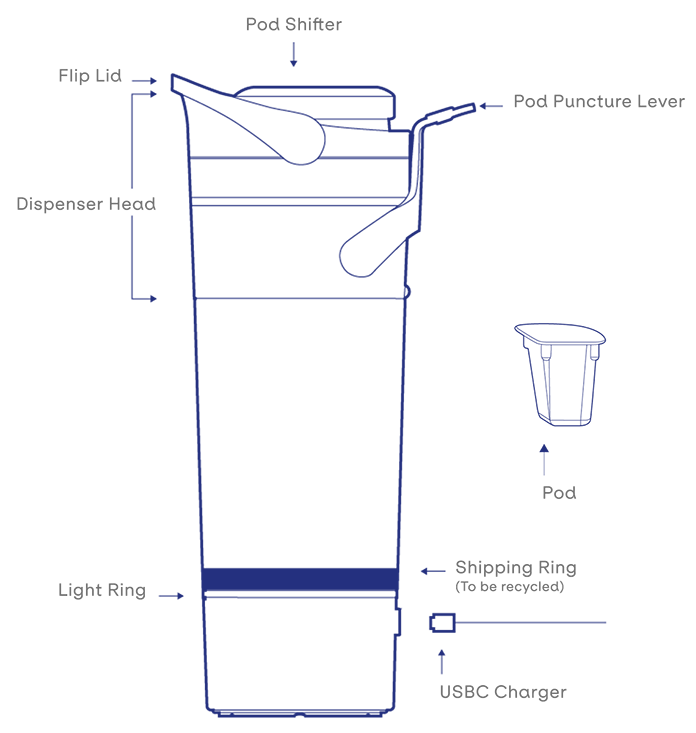 How-To Videos
Our handy how-to videos will walk you through how to use your bottle and tips & tricks.
Bottle Overview
Read the steps
1. Fill with cold water
2. Load your Pods
3. Select your Pod
4. Pull Puncture Lever
5. Activate Blender
6. Enjoy!
Bottle Features
What we cover
1. Shake-to-Blend
2. Lift-to-Blend
3. Hydration Tracking
4. Silent Mode
5. Dishwasher Warning
6. Battery Status
How To Load Your Pods
Read the steps
1. Remove the Pod Shifter
2. Load up to three Pods
3. Turn counterclockwise to select your Pod
4. While pushing down, turn clockwise to lock into place
How To Make a Drink
Read the steps
1. Fill with 14 oz of cold water
2. Load your Pods
3. Select your Pod
4. Pull and release Lever to puncture
5. Activate blender
6. Drink mixes for 12 seconds
7. Rainbow lights indicate drink is ready
How To Clean Your Bottle
Read the steps
1. Disassemble your bottle
2. Scrub and rinse
3. Dry
4. Three components are top rack dishwasher safe
5. Do NOT put Power Puck in the dishwasher or submerge under water
6. Quick rinse between each Pod consumption
Get A'ppy
• Beta Version Now Available for Download
• Hydration Tracking & Goal Setting
• Personalize Your Settings
• Find Your Bottle Feature
• Keep Your Bottle Firmware Up-to-Date