Discover the Blueshift Wellness Bottle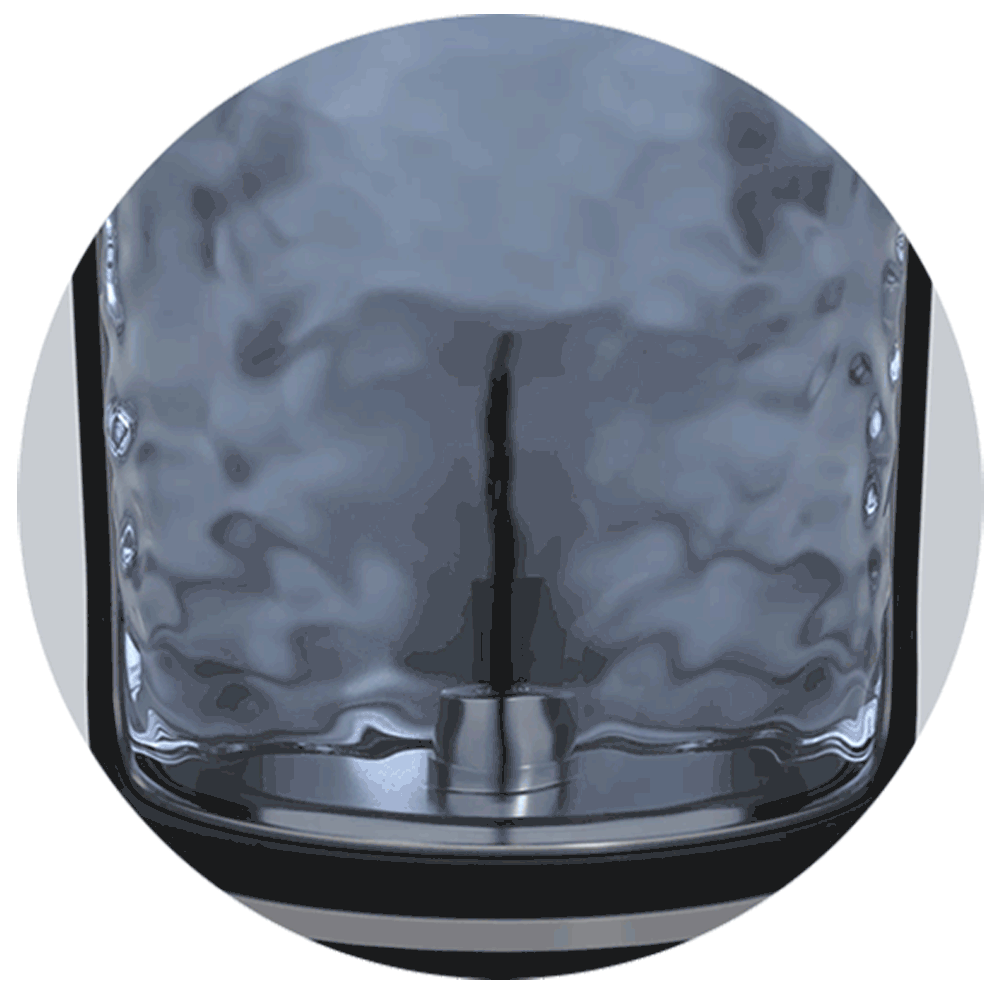 Onboard Blender
Motorized whisk blends the perfect drink every time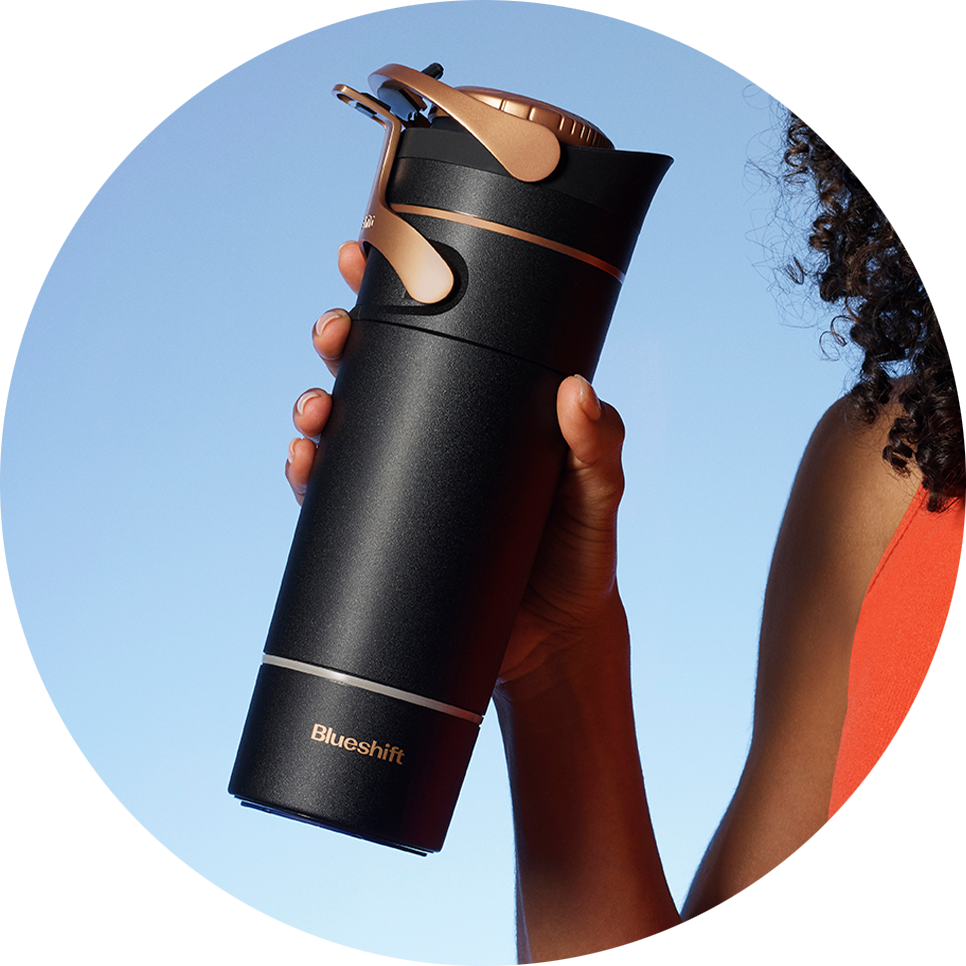 Lift-to-Blend
A quick pulse blend when you pick up the bottle prevents settling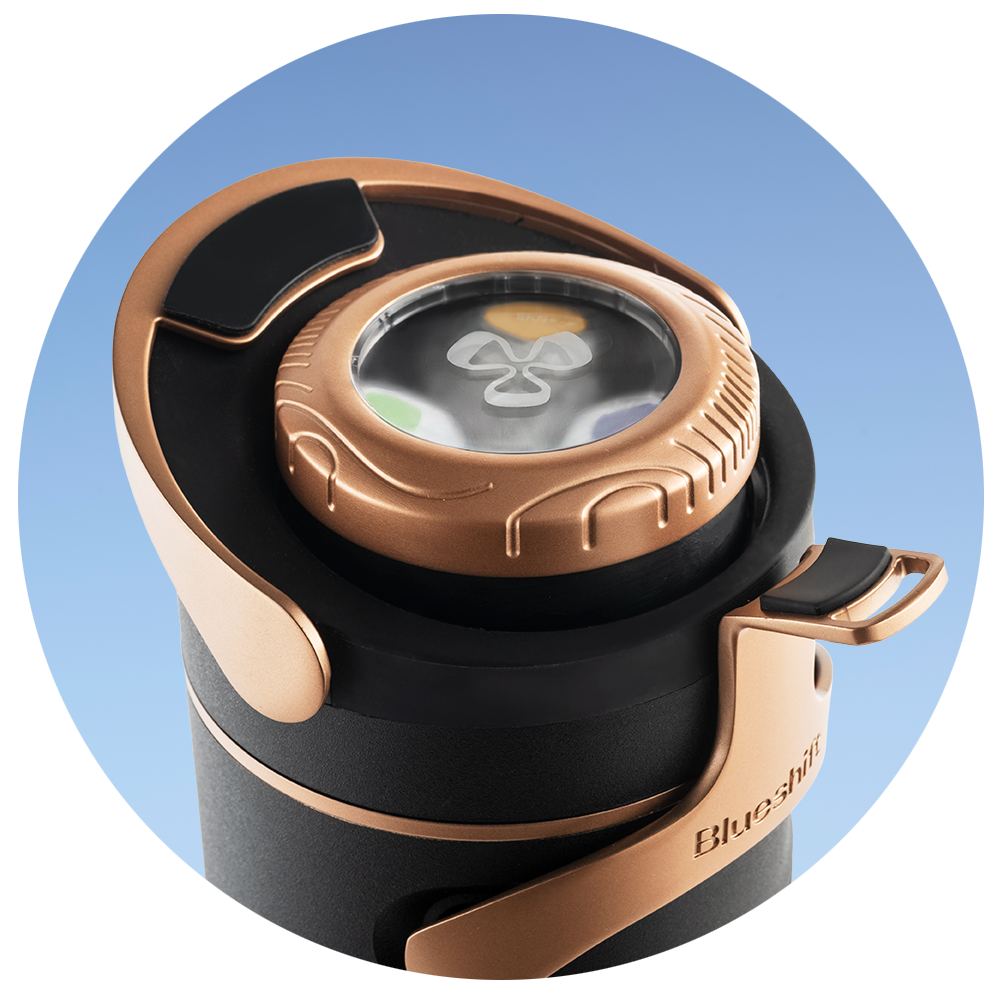 Three-Pod Shifter
Dial-a-drink to enjoy sipping your superblends on the go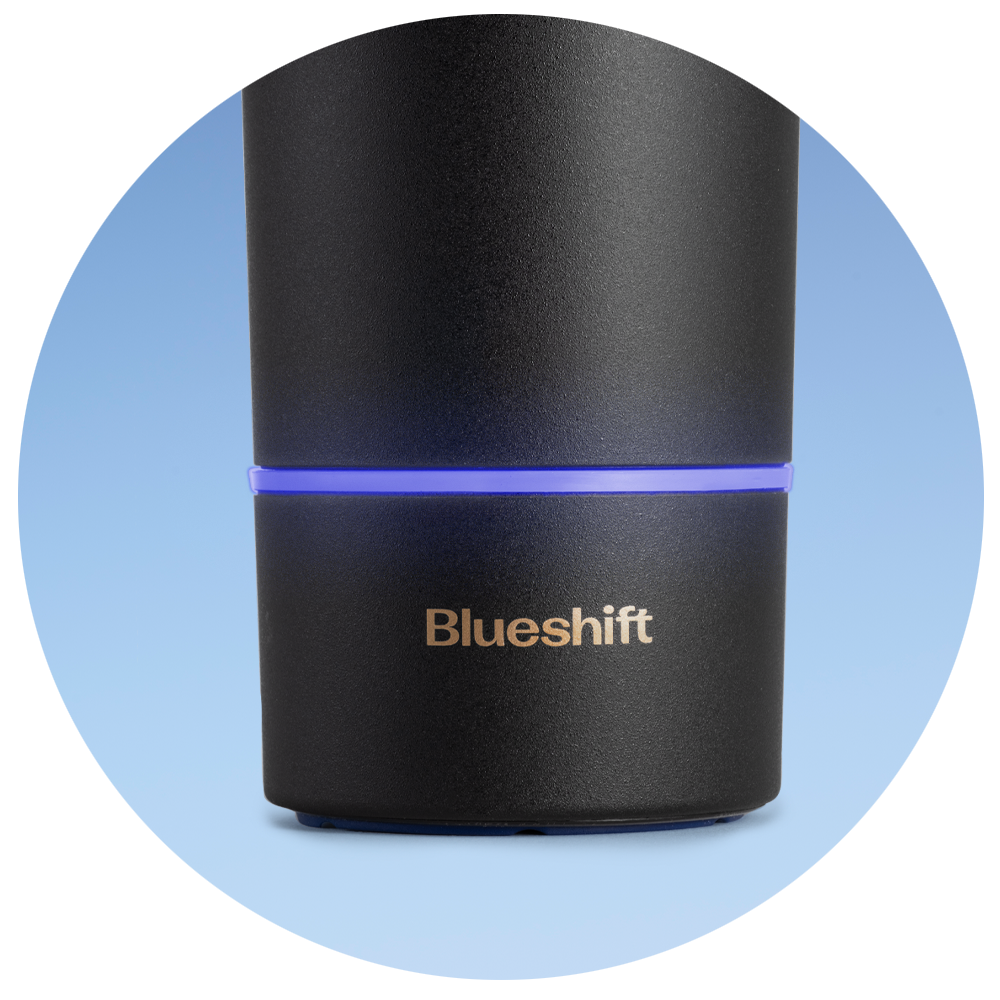 LED Light Ring
Keep your hydration flowing with multi-color reminders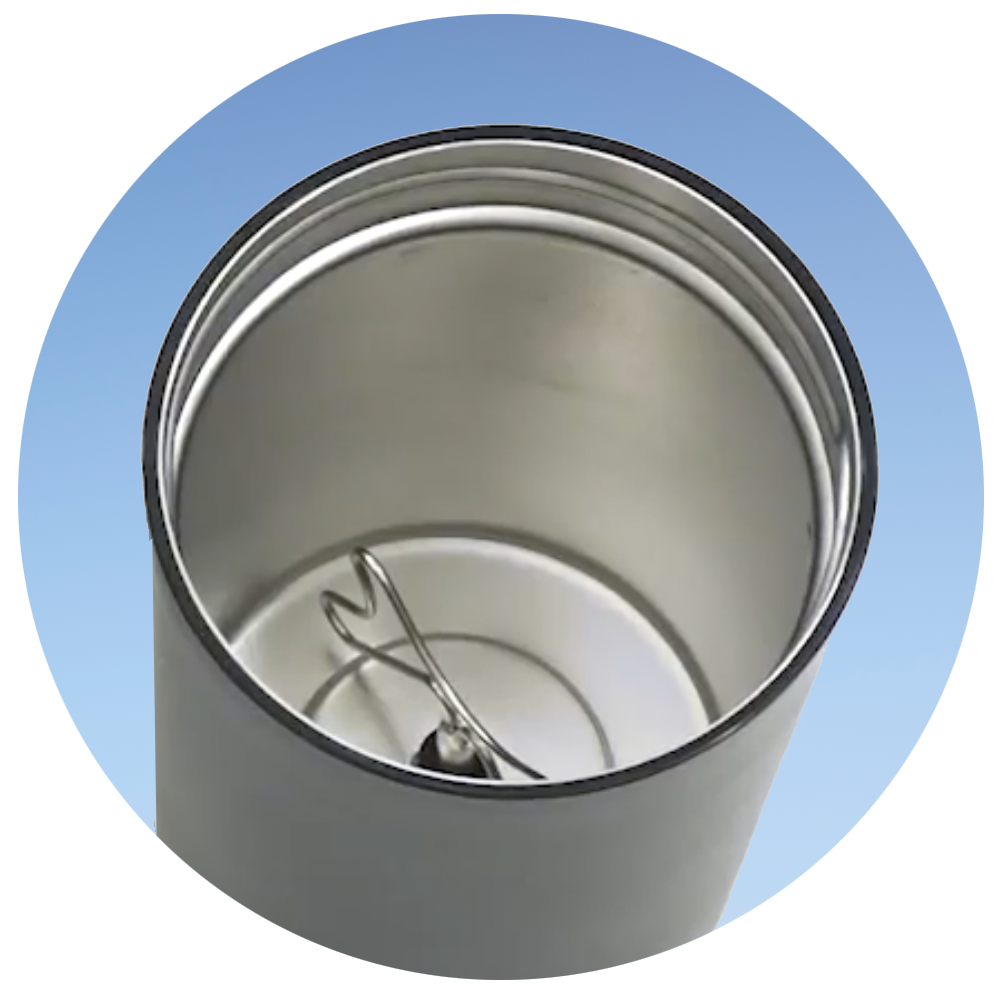 Built to Last
Heavy-duty construction, built with stainless steel and cast metal parts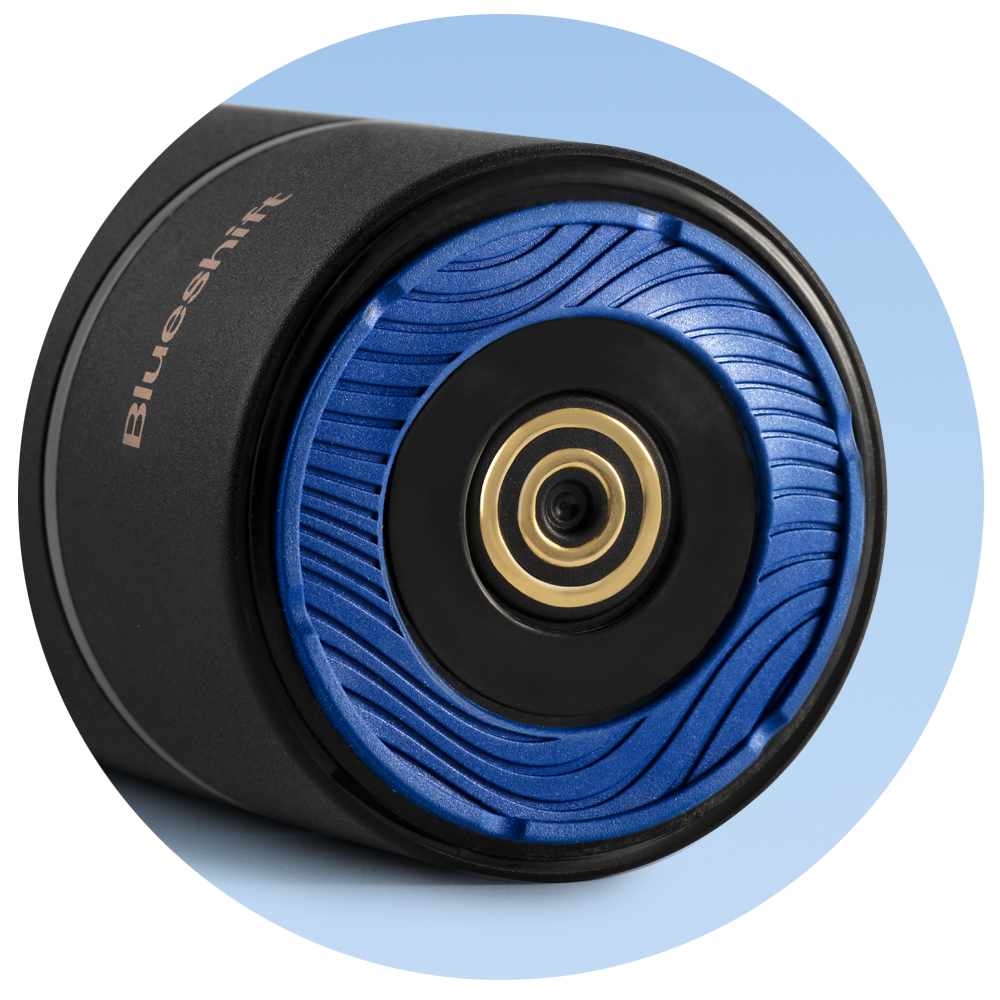 Lithium Ion Battery
Fast USB-c connection for charging
1 Wellness Bottle
1 Charging Cable with Wall Adapter
1 Carry Strap
1 Blueshift Favorites Sampler Pack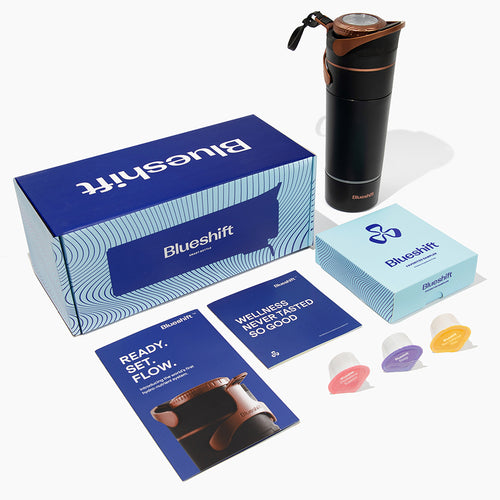 • Weight: 1.6 lbs.
• Height: 10.5"
• Base Width: 3"
• Capacity: 14 oz. to fill line
• Charging Time: full charge in under 1 hour
• Average Battery Life: 3 days with active use
• Motor RPM: up to 2,400 RPM
• Bluetooth
• Dishwasher safe (just remove the power puck!)
Blueshift Wellness Bottle User Manual
California Residents: WARNING
Q&As
Our Favorites Sampler contents rotate every so often based on customer feedback and development of new great blends!
Contact us here
if you would like to learn more of what its current contents are.
Our Bottle has no buttons and all functions are activated through simple actions and gestures, as described below.
Shake-to-Blend: activate a full blend with a quick top-to-bottom shake. The light ring will rotate blue as the drink mixes for 12 seconds, and celebrates with a rainbow when complete.
Lift-to-Blend: unlike any other bottle out there, our Wellness Bottle has Lift-to-Blend technology. Our Wellness Bottle senses when you are about to take a sip and makes sure every sip is freshly blended to ensure a clump-free drink that's good from first sip to last, every time. Just lift the Bottle from the table, and you initiate a 1.5 second quick blend, indicated by a rotating blue light.
Silent Mode: there may be times you don't want your Bottle flashing reminders or blending on pick up. For those times, we've created a Silent Mode. Entering Silent Mode, which pauses Lift-to-Blend and reminders, is activated by a double tap on top of your Bottle (like double-clicking a mouse). The Light Ring will briefly glow white to show you entered the Silent Mode. To exit the Silent Mode, simply double tap the Bottle. The light ring will briefly glow green.
Click here to learn more.
Our Light Ring will display different colors with different motions and actions. Here is what the colors represent:
Rotating Blue Light: indicates that you've activated Shake-to-Blend or Lift-to-Blend Technology. Shake-to-Blend lasts 12 seconds to fully mix a new drink, and is followed by a rainbow ring when it's complete. Lift-to-Blend is a quick 1.5 seconds. Lift-to-Blend ensures that every sip you take is smooth and delicious.
Brief White Glow: means that you've activated Silent Mode by double tapping the top of the Bottle (like double-clicking a mouse).
Brief Green Glow: means that you've exited the Silent Mode by double tapping the top of the Bottle (like double-clicking a mouse).
Quick Blue Pulse: indicates that you haven't drank from your Bottle in 30 minutes. The pulse will repeat every 2 minutes until you lift the Bottle to drink. You can modify the frequency of these reminders in our App.
Rainbow of Colors: this is our favorite - it means you've completed a full blend, or reached your daily hydration goal! Woohoo!
Quick Red Pulse: will appear if you leave your Power Puck attached to the Mixer Cup and place it upside down in the dishwasher. Please keep in mind that our Power Puck should never be submerged in water and is not dishwasher safe.
Repeating Red Glow: will remind you that your Bottle is running out of battery.
Green Light: indicates that your battery is charged.
Click here for more information.
Absolutely! We have a tiny scale inside our Wellness Bottle. Every time you take a sip and place the Wellness Bottle on a flat surface it automatically calculates how much of the beverage has been consumed. When you use our convenient app (beta version), you can set your hydration goals and measure your water intake from our Wellness Bottle.
Click here for more information.
We've packed a lot of technology into our Wellness Bottle. It is 10.5in tall and has a diameter of 3in at the base. The diameter of the top of the bottle is 4in. Our durable Wellness Bottle (with no water or Pods inside) weighs 1.6 lbs (0.75kg) and it fits in most cup-holders. For optimal function and flavor, we recommend using the 14oz fill line when adding water to your Mixer Cup.
The Wellness Bottle needs to be regularly cleaned and, with the exception of the Power Puck, is dishwasher safe. The Power Puck cannot come into contact with water and must be removed before washing (instead, it should be wiped with a damp cloth as needed). The Pod Shifter, Dispenser Head, and the Mixer Cup can all be washed in the top rack of the dishwasher.
Click here for more information.